Visit Us At:
348 Bronte St. S, Unit 21, Milton, ON L9T 5B6

For a full screen experience, simply click on the "four corner" icon in the upper right hand corner of our storefront below. Then, use your mouse or arrow keys to navigate through our showroom and stock area. Press Esc to return to our home page. Enjoy! And, come and visit us.
New at Horton Hot Rod Parts!
(click images to visit their web sites)
Black Anodized LS Tru Track with
Natural Finish Accessories
Big Block Chevrolet LS Valve Cover Conversion Kits
Small / Big Block Chevrolet Thermostat Housings
For AN Hoses

Billet Hinges with Gas Springs
Billet Tremec Shift Levers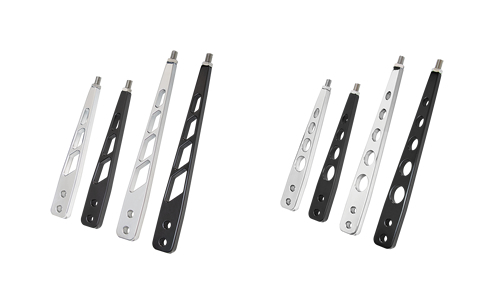 With the never ending desire to make their products more user friendly, the Fatman has just finished development of the first of their new BOLT-IN hub to hub kits. These kits are available for the popular 49-54 Chevy cars. They bolt-in using several of the existing holes from the original crossmember with a few more added for extra strength. These kits have been updated to a shim style upper control arm alignment system. They are available in standard and ultra-low versions with either coilovers or air bags. Engine mounts for small block Chevies are currently included with more to follow.
Vintage Air, the leading manufacturer of complete performance air conditioning systems for classics, hot rods and street rods, has announced the release of its all-new Gen IV SureFit air conditioning system for 1967-1972 Ford F-100 pickup trucks. This system is available as both a Complete Kit as well as an Evaporator Kit and is designed to install with minimal modifications to the original firewall.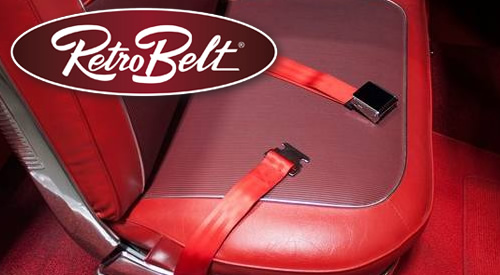 Announcement From Heidts Hot Rod & Muscle Car Parts
Horton T-Shirt
Design by Matthew Labutte
Available now $23.00 each

Horton Is A Great Source For Performance Parts and Accessories!
Some examples: American Racing, Autometer, Edelbrock, Flowmaster, Hedman, Holley, MSD, Powermaster, Russell, Taylor Wire, Transdapt, VDO, plus many others! Please call us & we'll find it for you.

Gift Certificates Available In Any Denomination

Our Prices / The Fluctuating Dollar
While we make every effort to provide you with a catalogue that reflects current pricing, please call us for up-to-the-minute pricing relative to changes in the Canadian dollar. Thanks.
Hot New Products
Hot New Products is a section of our website dedicated to parts that come through here that make someone say "hey, that's neat!" They may be things we've had around for a while, or brand new parts to the industry. Now they've got a home. Let us know if you're looking for something you've seen somewhere - we can probably get it.